El Anatsui is a world-acclaimed Ghanaian sculptor with five decades of distinguished career. His earliest works date to the 1970s with about thirty works to his name. He has over the years captivated and provoked a host of international attention and recognition. His work with sculpture and wood carving started as a hobby to keep alive the traditions he grew up with.
El Anatsui artworks which are predominantly inspired by African traditional beliefs have been collected by major international museums and featured in Ghana's first National Pavilion at the 58th Venice Biennale. He is an expert craftsman in building eye and mind-captivating works using wood, clay, metals, and caps of bottles. Some of his famous works are sculpted largely from aluminum bottle caps, these works strike a resemblance to a woven cloth like the Kente.
His works have created a new narrative on how creatives can play a pivotal role in the recycling chain, turning trash into treasure. El Anatsui in an interview with October Gallery noted that "The amazing thing about working with these metallic 'fabrics' is that the poverty of the materials used in no way precludes the telling of rich and wonderful stories." His artworks have simple yet striking titles like Sovereign, Freedom, Drying Line, Routes of Discovery, Gli, Peak, Broken Bridges I and II, Gravity and Grace, Ozone Layer, and National Identity Card.
Life and Education
El Anatsui was born in 1944 at Anyako in the Volta Region of Ghana. He was the youngest of 32 children born to his father. Anatsui was raised by his uncle after his mother died. His first exposure to art was through chalkboard lettering. The sculptor, Vincent Akwete Kofi, served as one of his early influences. After completing his elementary education in the Volta region, he gained admission into the College of Arts, Kwame Nkrumah University of Science and Technology, Ghana. He was granted an opportunity to lecture at the University of Nigeria, Nsukka where he taught as a Professor of Sculpture and subsequently became a Departmental Head of Fine and Applied Art from 1975 until his retirement in 2011.
Though born and bred in Ghana, El Anatsui has lived a significant number of his life in Nigeria. He once noted that living outside his country gave him a nomadic mentality that expanded his experiences and prevented him from becoming complacent.
El Anatsui has embraced a wide variety of media and addressed a vast array of social, political, and historical issues.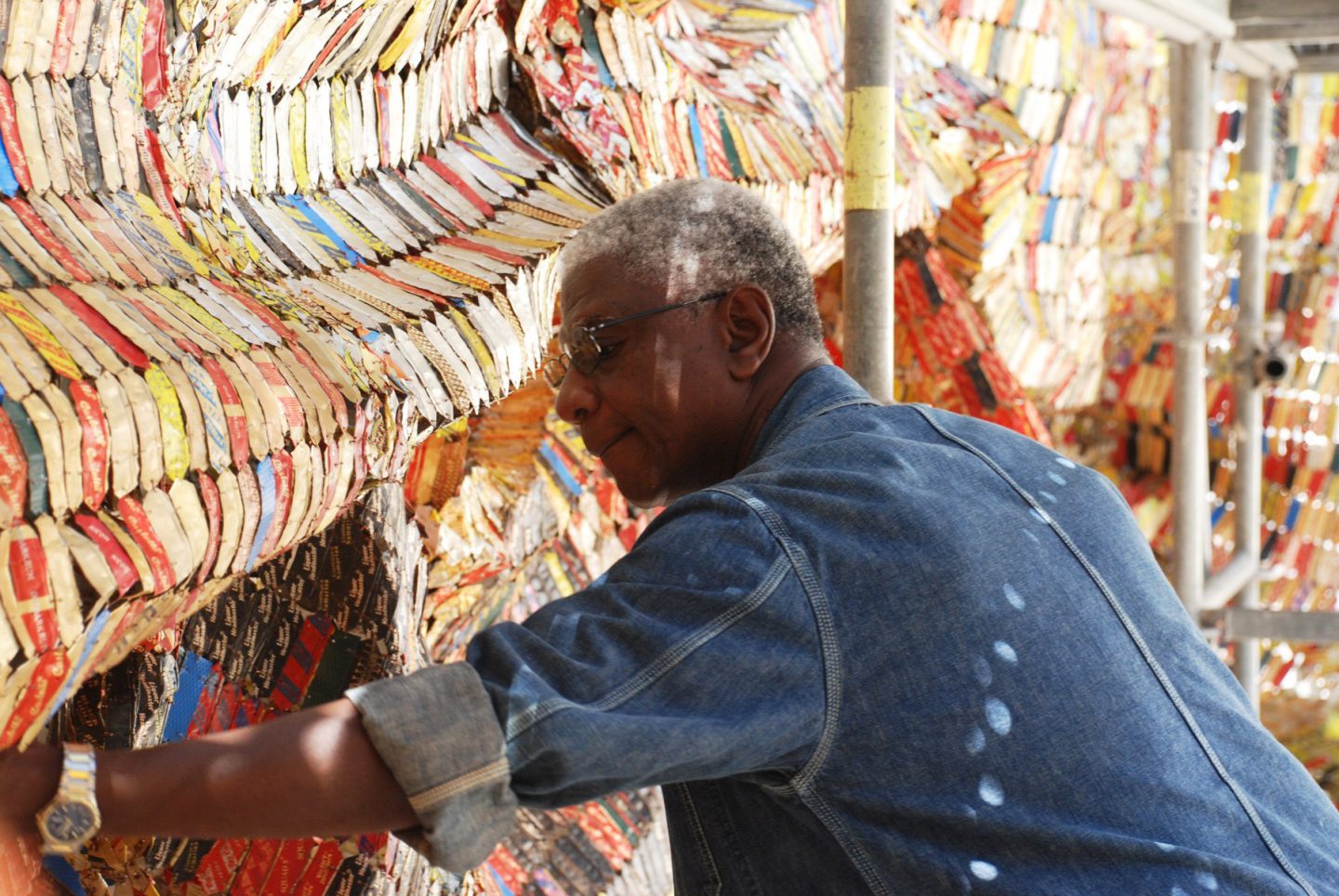 Exhibitions
Beautifully exhibited pieces of his sculptures have been installed in international museums such as the British Museum in London, the Centre Pompidou in Paris, the De Young Museum in San Francisco, the Metropolitan Museum of Art in New York, Guggenheim in Abu Dhabi, the Osaka Foundation of Culture in Japan, Museum of Modern Art in New York and many other prestigious institutions.
The remarkable works of the contemporary artist have been mounted at the façade of international exhibition grounds. In the 2012 Paris Triennale, El Anatsui transformed the entire façade of Le Palais Galliera with his striking work, Broken Bridge. The artwork was also mounted at the Royal Academy of Arts in London in 2013. During the 52nd Venice Biennale in 2007, he also transformed the façade of the Palazzo Fortune by draping it in a shimmering bottle top sculpture, Fresh and Fading Memories. One of his major works, Kindred Viewpoints, also enveloped the façade of El Badi Palace during the 2016 Marrakech Biennale.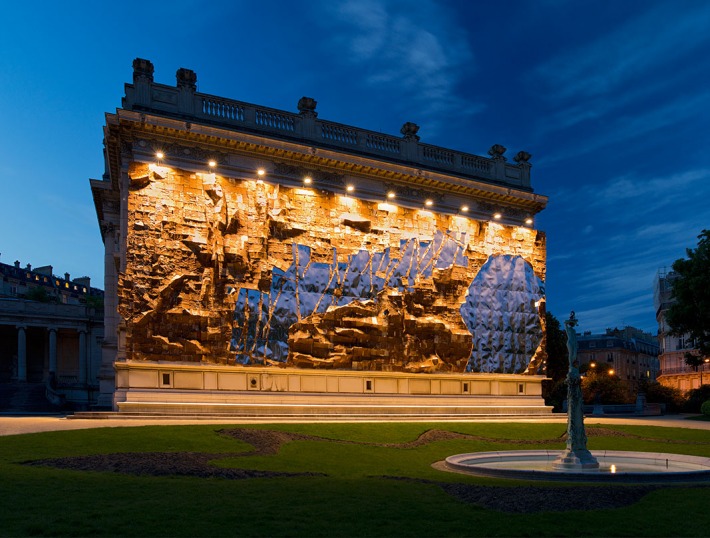 He displayed his first-ever solo museum exhibition at Meyina Iziko National Gallery in Cape Town. Another solo exhibition includes Gravity and Grace: Monumental Works. This was a touring solo exhibition installed at the Brooklyn Museum in New York, Akron Art Museum in Ohio, Des Moines Art Center in Iowa, and the Bass Museum of Art in Miami, Florida.

In 2010, two major touring shows of his work opened on opposite sides of the world. One was his work, El Anatsui: When I Last Wrote to You About Africa, which opened at the Royal Ontario Museum. The second piece was A Fateful Journey: Africa in the Works of El Anatsui at the National Museum of Ethnology in Osaka, Japan.

In 2015, a comprehensive survey spanning the last fifty years of Anatsui's career was celebrated at the premiering of The School (Jack Shainman) with a solo exhibition of the work of El Anatsui in Kinderhook, New York, tagged Five Decades. In 2019, the largest survey exhibition of El Anatsui's oeuvre, Triumphant Scale, was presented at the Haus der Kunst, Munich Germany.
El Anatsui has collaborated with globally recognized artists like Factum Arte, Ablade Glover, Chika Okeke-Agulu, Ozwald Boateng, and Okwui Enwevor.
Awards
In 1990, he won the Public Prize at the 7th Annual Triennale der Kleinplastik. In 1995, he swooped the Kansai Telecasting Prize at the 6th Osaka Sculpture Triennial.

In 1998, the Bronze Prize was awarded to him on the 9th Osaka Sculpture Triennial. In 2008, he was awarded the Visionaries Award at the Museum of Arts and Design (MAD). El Anatsui also received the Prince Claus Award in 2009. Another notable award was the Golden Lion for Lifetime Award by the Venice biennale to acknowledge his artistic contribution to the world 2015.
The Royal Academy of Arts, London, also presented the artist with the prestigious Charles Wollaston Award for his work, TSIATSIA – searching for connection, 2013. In 2014, El Anatsui was made an Honorary Royal Academician by London's Royal Academy, having become the First African Artist appointed to this status. In 2016, he received an Honorary Doctorate from Harvard University and he is also an International Honorary Member of the American Academy of Arts and Sciences. In 2017, he was honored with the Praemium Imperiale Award for Sculpture, by the Japan Art Association, Tokyo, Japan.
Impact
El Anatsui has been a pivotal figure in the contemporary African art scene, and his work has inspired and influenced a generation of artists who create their own sculptures using similar techniques and materials. These include Ibrahim Mahama, a Ghanaian artist who creates large-scale installations out of jute sacks once used to transport cocoa and charcoal.
Romuald Hazoumè, a Beninese artist who makes sculptures and installations out of discarded materials like gasoline cans, plastic bottles, and motorcycle parts. Ndidi Dike, a Nigerian artist who makes sculptures and installations out of discarded materials like plastic bags, bottle caps, and wire mesh. Gonçalo Mabunda, a Mozambican artist who uses decommissioned weapons such as AK-47s and rocket launchers to create sculptures and installations.
Now an Emeritus Professor, he has been mentoring a new generation of young artists from around the world through his El Anatsui Foundation.