Kofi Atta Annan was a distinguished diplomat from Ghana who made a significant impact on the international stage during his tenure as the seventh secretary-general of the United Nations from 1997 to 2006. He was born on April 8, 1938, and passed away on August 18, 2018. Annan was awarded the Nobel Peace Prize in 2001, along with the United Nations, in recognition of his efforts to promote peace and human rights worldwide.
Annan was also the founder and chairman of the Kofi Annan Foundation, a non-profit organization dedicated to promoting sustainable development, peace, and security. He served as the chairman of The Elders, an international organization founded by Nelson Mandela to promote peace and human rights, among other causes.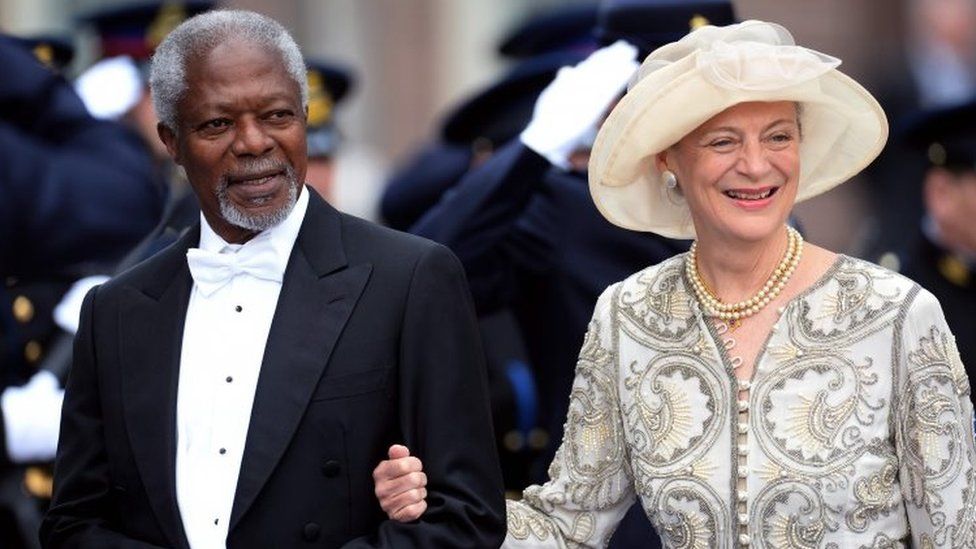 Annan had an impressive educational background, having studied economics at Macalester College, international relations at the Graduate Institute Geneva, and management at MIT. He began his career with the United Nations in 1962, working for the World Health Organization's Geneva office. He went on to hold several key positions at the UN Headquarters in New York, including serving as the Under-Secretary-General for peacekeeping from March 1992 to December 1996.
In 1996, Annan was appointed as the UN Secretary-General by the Security Council and later confirmed by the General Assembly. This appointment was significant because he was the first officeholder to be elected from the UN staff itself. Annan's leadership style was characterized by his ability to bring people together, promote dialogue, and build consensus. He was instrumental in establishing the Millennium Development Goals and promoting peace.
Kofi Annan, during his tenure as the Secretary-General of the United Nations, played a pivotal role in reforming the organization's bureaucracy and implementing measures to combat HIV/AIDS, particularly in Africa. He also spearheaded the launch of the UN Global Compact, a voluntary initiative aimed at promoting sustainable development and corporate social responsibility. However, his failure to expand the Security Council and the controversy surrounding the Oil-for-Food Programme led to calls for his resignation. Despite being largely cleared of personal corruption allegations, Annan faced criticism for not taking more decisive action.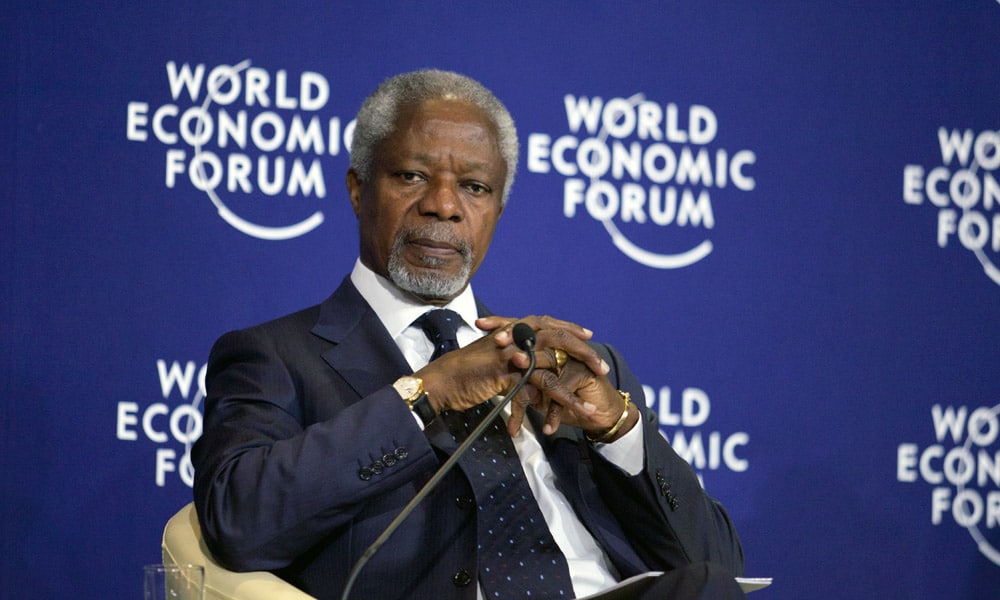 After stepping down as Secretary-General, Annan established the Kofi Annan Foundation in 2007, which focuses on international development efforts. In 2012, he was appointed as the UN-Arab League Joint Special Representative for Syria, where he worked tirelessly to find a peaceful resolution to the ongoing conflict. However, Annan resigned from his post due to the UN's lack of progress in conflict resolution.
In 2016, Annan was tasked with leading a UN commission to investigate the Rohingya crisis, which had displaced thousands of people in Myanmar. His efforts to address the humanitarian crisis were widely recognized, and he continued to be a vocal advocate for peace and justice until his passing in 2018.
His Early Year and Education
Kofi Annan was born on April 8, 1938, in Kumasi, a city located in the Gold Coast, which is now known as Ghana. Annan's twin sister, Efua Atta, shared the middle name Atta, which means "twin" in Akan, their native language. The siblings were born into a prominent Fante aristocratic family. Annan's grandfathers and uncle were Fante paramount chiefs, and his brother Kobina went on to become Ghana's ambassador to Morocco.
In accordance with the Akan naming tradition, children are given names based on the day of the week they were born and the number of siblings born before them. Kofi is the Akan name for boys born on a Friday, which was the day of the week Annan was born. Additionally, Annan's surname, Annan, means "fourth-born child" in Fante, his family's native language. Annan himself noted that his surname rhymes with "cannon" in English.
Annan attended Mfantsipim, an all-boys Methodist boarding school in Cape Coast, from 1954 to 1957. The school's motto, "dwen hwe kan" ("think and achieve"), left a lasting impression on Annan. He once said that the school taught him that "suffering anywhere concerns people everywhere." In 1957, the year Annan graduated from Mfantsipim, Ghana gained independence from the United Kingdom and adopted the name Ghana.
Annan began his tertiary education in 1958 at the Kumasi College of Science and Technology, which is now known as the Kwame Nkrumah University of Science and Technology. He received a Ford Foundation grant that enabled him to complete his undergraduate studies in economics at Macalester College in Saint Paul, Minnesota, in the United States in 1961. Annan went on to complete a diplôme d'études approfondies (DEA) degree in International Relations at the Graduate Institute of International and Development Studies in Geneva, Switzerland, from 1961 to 1962. After gaining some work experience, he enrolled in the Sloan Fellows program at the MIT Sloan School of Management in 1971-72 and earned a master's degree in management.
Annan was a polyglot who spoke English, French, Akan, and some Kru languages, as well as other African languages. His linguistic abilities were a valuable asset during his tenure at the United Nations, where he served as Secretary-General from 1997 to 2006.
His Diplomatic Career
Kofi Annan's illustrious career in the United Nations started in 1962 when he joined the World Health Organization as a budget officer. He then worked as a manager for the state-owned Ghana Tourist Development Company in Accra between 1974 and 1976. In 1980, Annan moved to Geneva to take up the position of head of personnel for the office of the UN High Commission for Refugees (UNHCR).
During his time in Geneva, Annan also served as a member of the Governing Board of the International School of Geneva from 1981 to 1983. In 1983, he moved to New York to become the director of administrative management services of the UN Secretariat. Four years later, in 1987, Annan was appointed as assistant secretary-general for Human Resources Management and Security Coordinator for the UN system.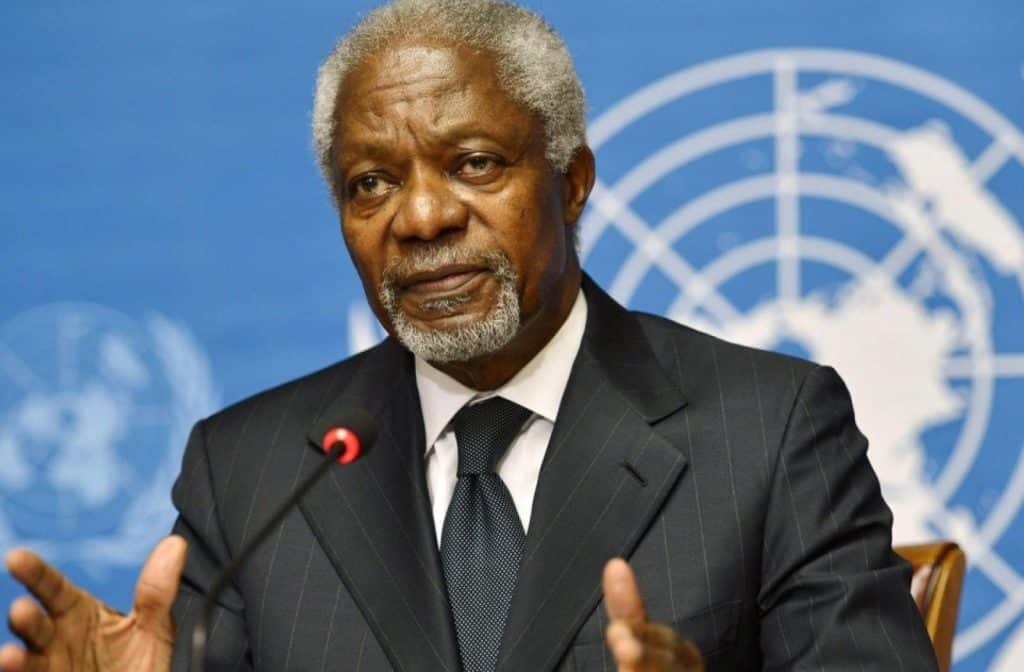 In 1990, Annan became Assistant Secretary-General for Program Planning, Budget and Finance, and Control. Two years later, Secretary-General Boutros Boutros-Ghali established the Department of Peacekeeping Operations (DPKO) and appointed Annan as Deputy to then Under-Secretary-General Marrack Goulding. In March 1993, Annan succeeded Goulding as Under-Secretary-General of the department after American officials influenced Boutros-Ghali's decision, considering Annan more flexible and aligned with the role that the Pentagon expected of UN peacekeepers in Somalia.
On 29 August 1995, Annan made a bold move that won him the favor of the United States. While Boutros-Ghali was unavailable on an aeroplane, Annan instructed United Nations officials to "relinquish for a limited period of time their authority to veto air strikes in Bosnia". This decision allowed NATO forces to carry out Operation Deliberate Force, and Annan was hailed as a hero by the US. Richard Holbrooke, the US Ambassador to the UN, called Annan's "gutsy performance" a sign that he would be an excellent replacement for Boutros-Ghali.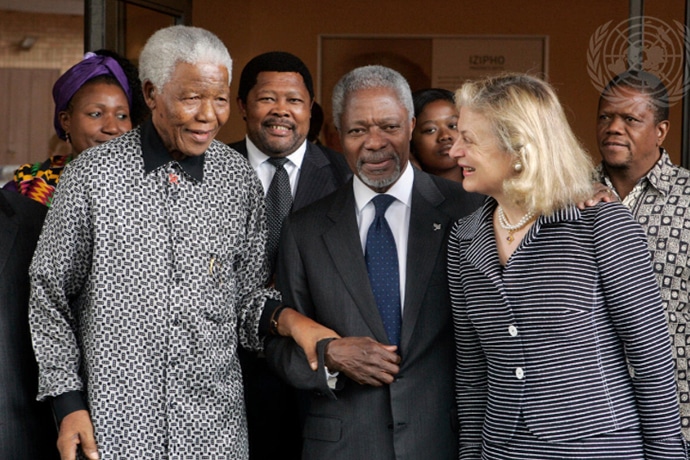 In recognition of his diplomatic skills and experience, Annan was appointed as a special representative of the Secretary-General to the former Yugoslavia, serving from November 1995 to March 1996. His contributions to the UN and his commitment to global peace and security have left a lasting impact on the world.
Kofi Annan's Death
The world mourned the loss of Kofi Annan, who died on the morning of 18 August 2018 in Bern, Switzerland, at the age of 80, after a short illness. Following news of his passing, UN Secretary-General António Guterres expressed his condolences, stating that Annan was "a global champion for peace" and "a guiding force for good."
Annan's body was returned to his home country of Ghana from Geneva in a solemn ceremony at the Kotoka International Airport in Accra on 10 September. The flag-draped coffin was accompanied by his widow Nane, his children, and senior diplomats from the international organization. The people of Ghana came together to pay their respects to the beloved statesman, who was widely regarded as one of the most influential Africans of his generation.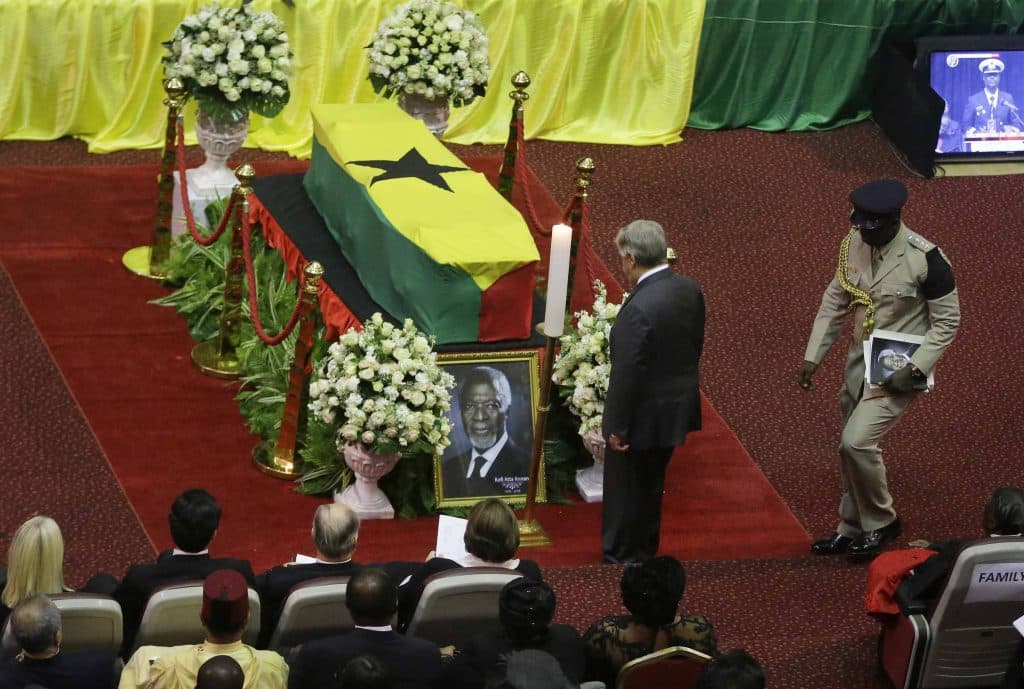 On 13 September, a state funeral was held for Annan at the Accra International Conference Centre. The ceremony was attended by several political leaders from across Africa, as well as Ghanaian traditional rulers, European royalty, and dignitaries from the international community, including UN Secretary-General António Guterres. Prior to the funeral service, Annan's body lay in state in the foyer of the same venue from 11 to 12 September, allowing the public to bid farewell to the former Secretary-General.
The private burial took place at the new Military Cemetery at Burma Camp. The funeral procession was accompanied by full military honors and the sounding of the Last Post by army buglers, followed by a 17-gun salute. The world said goodbye to Kofi Annan, a true champion of peace and a global statesman who dedicated his life to improving the lives of people around the world.