Captain Cecilia Erzuah, hailing from Ghana, is a remarkable individual who has made significant contributions as a peacekeeper and has been recognized for her outstanding efforts in promoting gender equality within the United Nations peacekeeping operations. In 2022, she was honored with the prestigious title of United Nations Military Gender Advocate of the Year.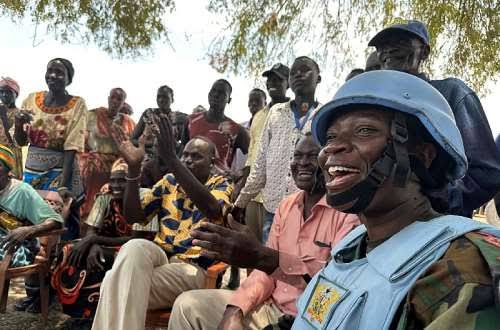 Captain Erzuah serves as a dedicated member of the United Nations Interim Security Force in Abyei (UNISFA), where she has played a pivotal role in maintaining peace and security in the region. Her unwavering commitment to her duties and her tireless advocacy for gender equality have earned her the respect and admiration of her peers and superiors alike.
As the 2022 United Nations Military Gender Advocate of the Year, Captain Erzuah has made significant strides in ensuring that the voices, needs, and concerns of women are adequately represented and addressed within peacekeeping operations. Her work has become a shining example for others, setting the standard for gender inclusivity and women's empowerment in similar endeavors.
United Nations Secretary-General António Guterres himself has praised Captain Erzuah's exceptional work, emphasizing the positive impact she has made in promoting gender equality. His words not only recognize her personal achievements but also highlight the broader significance of her efforts in advancing the United Nations' commitment to gender equality and empowerment worldwide.
Captain Cecilia Erzuah's well-deserved recognition as the 2022 United Nations Military Gender Advocate of the Year is a testament to her remarkable dedication, leadership, and the lasting impact she has had on peacekeeping operations. Her contributions serve as an inspiration to others, encouraging them to actively work towards creating a more equitable and inclusive world. Congratulations to Captain Cecilia Erzuah for this extraordinary accomplishment, and may her endeavors continue to shape and improve the future of peacekeeping and gender equality efforts globally.