George Alfred Grant, popularly known as Paa Grant, was a prominent merchant and politician in the Gold Coast (now Ghana), born on August 15, 1878, in Beyin, Western Nzema. He hailed from an influential merchant family and was the son of William Minneaux Grant and Madam Adjua (Dwowa) Biatwi of the Aboradze clan. Paa Grant has been dubbed "the father of Gold Coast politics" due to his contribution to the country's political landscape.
Grant received his education at Wesleyan School in Cape Coast, now known as Mfantsipim School, and was tutored privately by Joseph D. Abraham, a wealthy merchant friend of his father. He later worked in the timber trade, first at Axim and then for five years in the Ivory Coast. In 1896, he established his own firm, George Grant and Company, which became successful due to his entrepreneurial skills.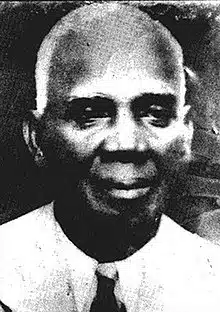 Paa Grant's business acumen took him to Britain in 1905 where he established business contacts with leading timber companies in Europe and the United States. During World War I, between 1914 and 1919, he chartered ships to transport timber to Britain and the USA. He further expanded his operations, opening offices in London, Liverpool, and Hamburg between 1920 and 1922. In the Gold Coast, he expanded his operations to Dunkwa, Sekondi, and Akim Abuakwa.
In recognition of his contributions to the development of the Gold Coast, Paa Grant was appointed to the Legislative Council in 1926, representing Sekondi. He was also a member of the Aborigines' Rights Protection Society and contributed to many development projects, including the introduction of street lighting and pipe-borne water to Sekondi and Axim.
Paa Grant was a political activist and one of Ghana's Founding Fathers. He founded the United Gold Coast Convention (UGCC) in August 1947, serving as its first president. He played a vital role in the country's struggle for independence, and his efforts helped pave the way for the country's eventual liberation. He was also responsible for paying the fare for Kwame Nkrumah's return to Ghana from the United States, a move that saw Nkrumah become the country's first president.
Political Activism
During and after the Second World War, George Alfred Grant, also known as Paa Grant, recognized the discriminatory and unfair colonial practices Africans in the Gold Coast were facing. To address this issue, he decided to take steps towards adequate representation of African interests. In 1947, Grant invited J. B. Danquah and other like-minded individuals to a meeting in Saltpond to launch a nationalist party, with the goal of achieving self-government. R. A. Awoonor-Williams, Edward Akufo-Addo, and Emmanuel Obetsebi-Lamptey were among the 40 people who attended the meeting, and they founded the United Gold Coast Convention (UGCC) on August 4, 1947.
Kwame Nkrumah, who was recommended by Ebenezer Ako-Adjei, was elected as the UGCC secretary-general, and Grant paid for Nkrumah's £100 boat fare to return to Ghana from Liverpool that year. However, Nkrumah later split from the UGCC to form the Convention People's Party (CPP), while Grant eventually focused more on his businesses than politics. Nonetheless, they maintained contact, and Nkrumah visited him two days before Grant's death in Axim on October 30, 1956, at the age of 78.
In 1955, Grant suffered from an attack of apoplexy from which he never fully recovered. Despite this, his contributions to the struggle for Ghana's independence were significant, and he remains a respected figure in Ghanaian history.
Paa Grant Soccer Academy
Kim Tyrone Grant, a former Ghana Black Stars national player, established the Paa Grant Soccer Academy in 2009 as a tribute to his grandfather's commitment and hard work toward Ghana's independence from the colonial rule until 1957.
George Grant University of Mines and Technology
During a special congregation held at the University of Mines and Technology (UMaT) located in the Western Region of Ghana, President Akufo-Addo announced on 12 January 2018 that the university would be renamed the George Grant University of Mines and Technology. The university was renamed in honor of George Grant, who was a founding father of Ghana's fight for independence and also a native of the Western Region.