Ghana Airways Limited served as the flag carrier of Ghana, with its primary base of operation and hub located at Kotoka International Airport in Accra. Unfortunately, the airline ceased its operations in 2004, though there were discussions to revive it in 2020 in collaboration with Egyptair.
History
Formative Years:
Founded on 4th July 1958 by the government of Ghana with an initial capital of £400,000, Ghana Airways held 60 percent ownership, while BOAC held the remaining share. A significant milestone in the early days was the seven-year agreement signed between the airline and BOAC. This agreement involved BOAC personnel being seconded to Accra, and Ghanaian personnel undergoing training to eventually take over the management and operation of the airline.
Before its establishment, BOAC and West African Airways Corporation handled international services from Ghana, operating pool services from West Africa to London. Upon its inception, Ghana Airways joined the pool services, and BOAC initiated the Accra-London route using a Boeing 377 Stratocruiser with the Ghanaian flag and a minimally adapted livery from the UK carrier.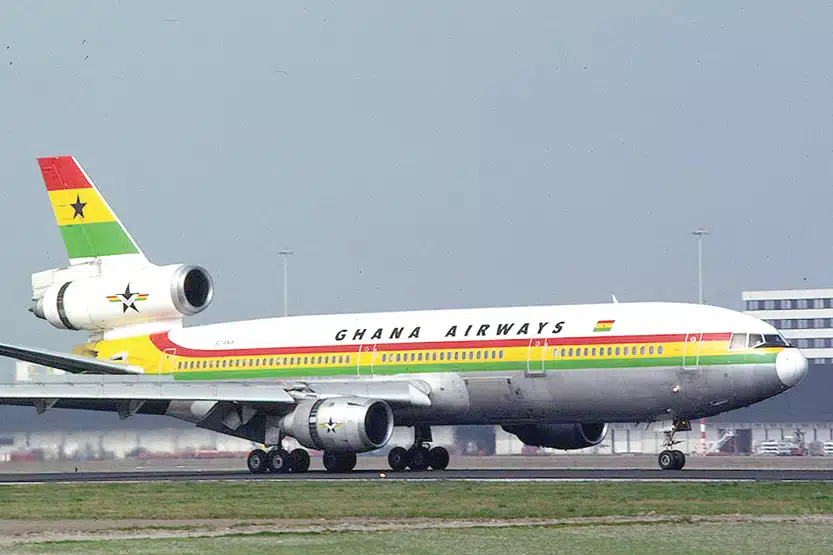 On October 1, 1958, Ghana Airways took over domestic and regional flights, which were previously offered by West African Airways Corporation. Their first aircraft, a de Havilland Heron, was delivered on December 30, marking the first Ghanaian aircraft since the nation's independence. The airline achieved a net profit of US$28,000 in its first year of operation.
The airline expanded its fleet with a second Heron and a Douglas DC-3 in 1959. Flights to London utilized Bristol Britannia 102s leased from BOAC. In 1960, an order for two Britannias and three Vickers Viscounts was placed. President Kwame Nkrumah's alignment with the West led to agreements with the Soviets, and Ghana Airways ordered six Ilyushin Il-18s. The first two Il-18s were delivered in December 1960, and the aircraft operated on various routes from Accra.
In January 1961, Ghana Airways ordered two Rolls-Royce Conway-powered Boeing 707-420s and three Vickers VC10s, planning to launch flights to the United States, Tokyo, and Sydney. The airline inaugurated a weekly Britannia service to Beirut, making it the first West African airline to serve the Lebanese capital.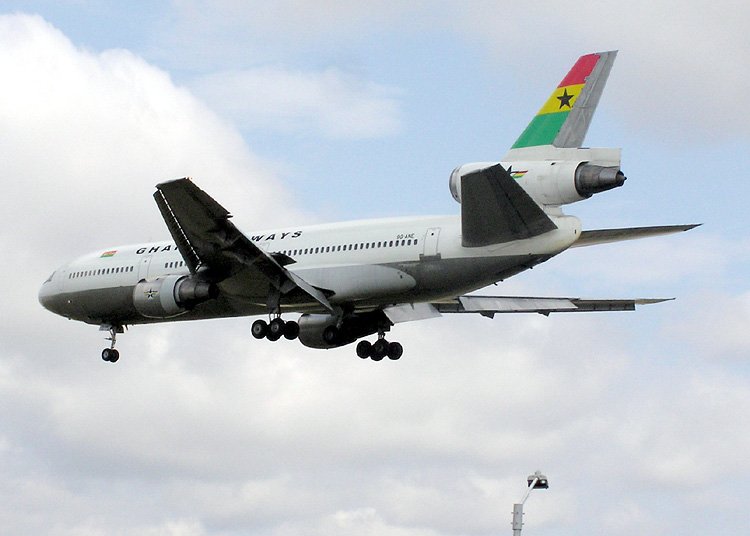 Changes and challenges:
In February 1961, Ghanaian government bought out BOAC's 40% share in the airline, leading to greater independence. The airline continued to add new aircraft, including Convair 990 jetliners leased from Swissair. Pool agreements were established with other airlines, and the fleet expanded to include McDonnell Douglas DC-9s and DC-10s.
The airline faced financial difficulties and management challenges, resulting in various alliances and agreements with other carriers like South African Airways, British Midland, and Nationwide Airlines. Unfortunately, these efforts couldn't save the airline, and it experienced incidents like the seizure of an aircraft at Heathrow Airport and banning from operating flights to the United States in 2004.
Cease of operations and liquidation:
In June 2005, Ghana Airways faced the unfortunate fate of liquidation due to the accumulation of significant debts and the government's unwillingness to offer further financial assistance. Subsequently, in December 2008, certain funds were disbursed to address severance claims of former employees. Nevertheless, the disbursement process received criticism from employees in Nigeria, who raised concerns about purported inequalities in the payouts.
Prospect of revival:
In 2020, the Government of Ghana announced an MoU with EgyptAir to potentially restart Ghana Airways. Plans included rehiring former staff and acquiring three Boeing 787 Dreamliners with technical support from Egyptair and Boeing. Dr. Charles Wereko-Brobbey was appointed Chairman of the new airline.
These were the important moments and tough challenges that Ghana Airways faced throughout its history, making it a significant part of Ghana's aviation legacy.